Ebola hakkında 5 bilinmesi gerçek.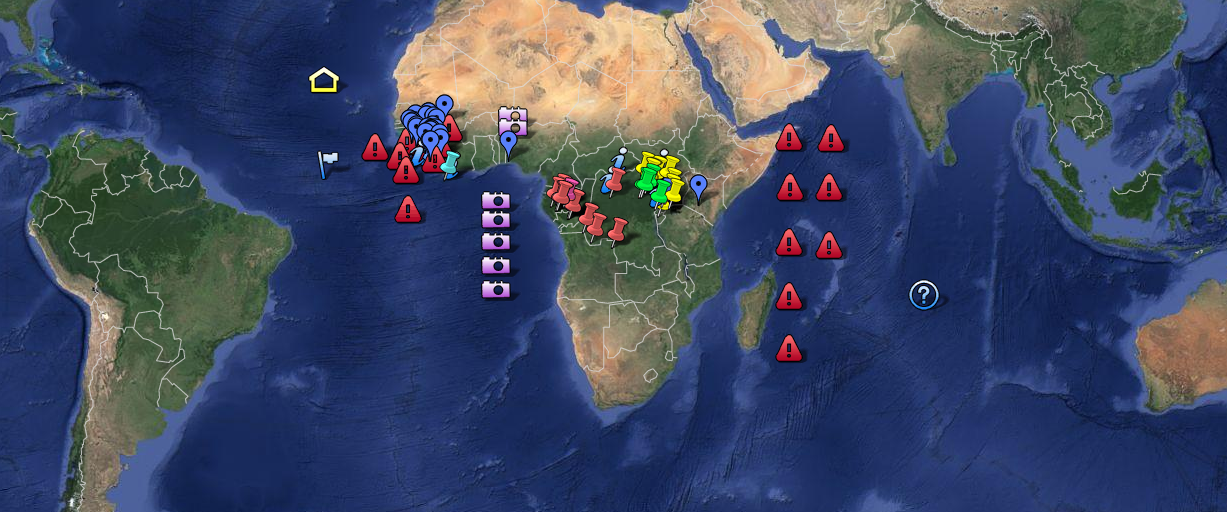 Google Ebola Takip
Dünya Sağlık Örgütü (WHO), bulaştığında  %90 ölümle sonuçlanan Ebola virüsünün Dünyaya yayılabileceği konusunda uyarıyor!
Virüsün bulaşması ile ölümün gerçekleşmesi arasındaki süre 3-4 gün.
Google 1976'dan günümüze Ebolanın takibi için bir servisi devreye aldı;  bu servise 
http://bit.ly/1ngQ39A
bağlantısından servise ulaşabilirsiniz.
Ebola görülen ülkeler ile Hava taşımacılık servisler ve Deniz taşımacılığı servislerine özellikle dikkat edilmesi gerekmekte, Bu ülkelerden gelen uçaklardaki yolculardan virüsün yayılabileceği unutulmamalıdır.
—-
EBOLA'NIN GÖRÜLDÜĞÜ veya GÖRÜLME OLASILIĞI OLAN YERLERDE TEMEL DİKKAT EDİLMESİ GEREKENLER.
Elleri sabun ile yıkanmalı ve Ebolaya yakalandığı şüphelenilen hastalara dokunulmamalı,
Yemekler iyice pişirilmeli,
Av eti yenilmemeli,
Ebola belirtisi gösteren kişilerin vücut sıvı ve döküntülerine temas edilmemeli,
Ebola ile ilişikili kişilerin eşyalarına dokunulmamalı,
Baş ağrısı, ateş, ağrı, ishal, kırmızı döküntüler, kusma durumunda zaman gerçirmeden sağlık merkezine gidilmeli,
Maymun ve babunlarla oynanmamalı,
Yarasaların olası yediği meyveler tüketilmemeli.
Daha fazla bilgi: http://www.cdc.gov/vhf/ebola/resources/index.html#crinfographics
Kaynak: CDC
—–
20141015
Ebola virüsünün Küresel Seviyedeki etkisi yayılma ve etkilenme oranları dikkate alındığında yüksek risk bölgesinde görülmemektedir. Bu seviyede olmasının iki ana nedeni hastalığın ölüme neden olduğu olay penceresinin darlığı ve Devletlerin uyguladığı kontroller dikkate alınabilir.
Ayrıca Ebola konusunda Kanada ve Rusyanın aşı çalışmalarının İnsan üzerinde deneme aşamasına gelmesi de Küresel Risk Seviyesini Düşürmektedir.
Biyolojik Tehditler ve Risklerin değerlendirilmesi konusunda araştırmayı ve okumayı sevenler için Bir hekim ve fizikçi olan Dr. Alan P. Zelicoff'un MİKROP kitabını öneririm.
Dr. Alan P. Zelicoff, ABD Enerji Bakanlığına bağlı Ulusal Nükleer Güvenlik Yönetimi adına çalışan Sandia Şirketi tarafından işletilen, Sandia Ulusal Laboratuvarlarının eski bir yöneticisidir. Şu anda da ABD Enerji ve Savunma Bakanlıkları ile NASA ile birlikte çalışan bir proje ve risk yönetimi firması olan Ares'te yöneticilik yapmaktadır. Hastalıklar hakkındaki bilgilerin hızlı bir biçimde paylaşılmasına dönük SRIS (Syndrome Reporting Information System) sisteminin yaratıcısıdır. Kongreye biyolojik silah üretimi hakkında bilgiler vermiştir. The Washington Post ve The Wall Street Journal gazetelerinde yazmaktadır. New Mexico, Albuquerque'de yaşamaktadır. (Tanıtım Bülteninden).
 http://www.kitapyurdu.com/kitap/default.asp?id=461184
   Amazon bağlantısı için
tıklayınız.
|
____ Innovation Science Labs ____
|